Jeremy hosts special visitor at race shop.
Feb 13, 2017
Jasiah Davenport, who was diagnosed as autistic and is non-verbal, enjoyed a pit stop at Clements' garage on Monday.
An idea hatched from a young boy's fascination with cars morphed into an exciting visit to the garage of a well-known local driver who continues making headway in his quest to become elite.
It was difficult to decipher who wore the broadest smile over the course of an hour Monday as 10-year-old Jasiah Davenport got a close-up view of the cars that will be driven by Spartanburg native Jeremy Clements. The Dorman graduate is set to begin his seventh full season competing on the NASCAR Xfinity series.
"I always try to give back any way I can, even if it's just a little bit here and there," Clements said. "It's just cool to see Jasiah and he's got such a nice smile. I'd heard a lot about him and said well let's bring him over here, maybe he'll like all this stuff. Who knows?"
Jasiah, a student at Oakland Elementary, was diagnosed as autistic at 18 months old and is non-verbal. Despite the lack of dialogue, it was easy to see how much the young man was enjoying his visit in expanding a world of cars he'd grown to love. He first became interested in the animated movie "Cars" and then took an interest whenever racing came on television.
"We were really surprised when this got set up and we told Jasiah about coming, but we don't think he actually understood until he got here," said his mother, Wendy Davenport. "I think he's really excited. It's absolutely more than we could've thought. I don't even have the words to describe being here."
The idea came to fruition through Jasiah's tutor, Rhonda Mitchell, and her husband, Rick, who has been a racing fan and known Clements for some time.
"When I'm working with Jasiah I try to do things to stimulate language since he's non-verbal," Mrs. Mitchell said. "So I was talking to my husband and telling him how much he likes cars and trucks and all that and he said maybe we could take him to see a race car. Jeremy really related well to him. What I plan to do back with him on Thursday is we'll look at the cars and talk about them and then we'll write about it and then have him read it the best he can."
It took a bit of coercing, but Jasiah eventually scoped out the various aspects of multiple cars, worked on changing a tire with the torque wrench, and particularly loved raising a car high upon the electric lift. Jasiah declined to sit in the driver's seat despite many attempts, although Mrs. Davenport slid in through the window "Dukes of Hazzard" style.
"We about had him in (the seat) a few times and couldn't make it happen, but he seemed to like it," Clements said. "I'm sure it's a lot for him to digest, but he definitely was smiling a lot and that's what the main goal was. He really got a kick out of pushing the button for the car on the lift. He smiled big-time. We just got to show him around and let him see how some of this stuff works here."
Clements has fond memories of having speakers come to elementary school or meeting some well-known sports figures and cherishes having the ability to bring even just a bit of that same joy to a child.
"We have a lot of visitors through here all the time, but anytime we can get somebody like Jasiah, I'm excited to see him because they don't get to see stuff like this all the time. It definitely makes them smile, makes their day, and his mom really took a lot of interest in everything so that was cool. I told her anytime they want to come to a race, I'll hook them up whenever they want."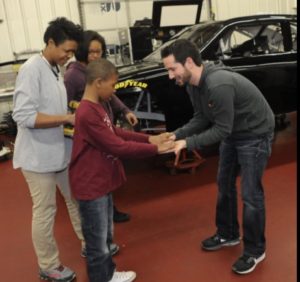 Clements will begin the 2017 Xfinity schedule at the Feb. 25 Powershares QQQ 300 at Daytona followed by the March 4 Rinnai 250 in Atlanta. He had a career-best three Xfinity top-10 finishes last season, including a career-high fourth at Talladega.
Thank you Eric Boyton and John Byrum
Staff Writer and Photographer Spartanbug Herald-Journal