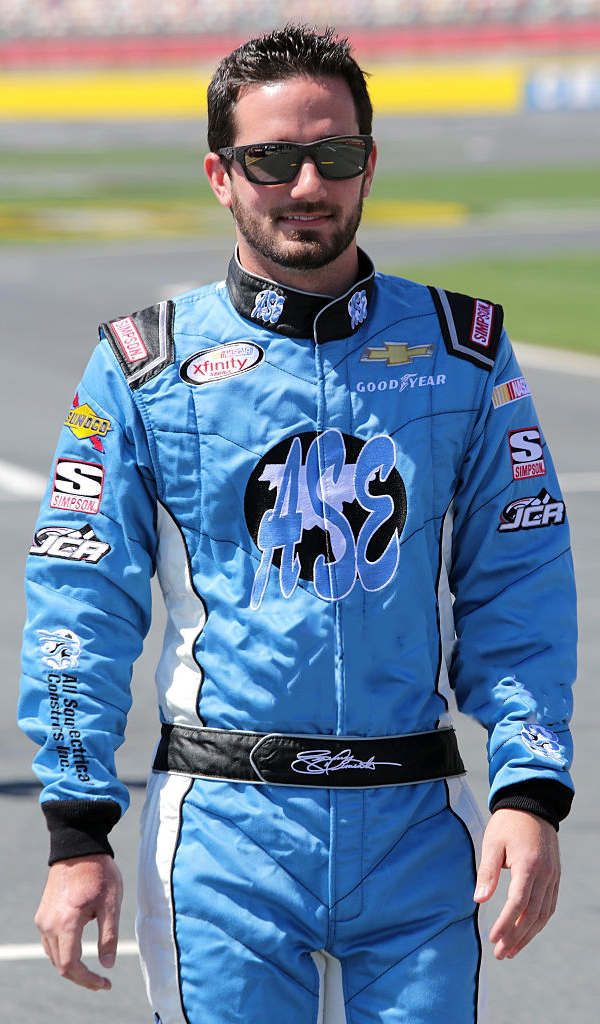 FAST FACTS:
DOB: January 16, 1985
Height: 5′8″
Weight: 150 lbs.
Hometown: Spartanburg, SC
Racing Experience: Karts, Stock Four Cylinders, Modified Four Cylinders, Limited Late Models, Super Late Models, ARCA RE/MAX Series and NASCAR XFINITY Series
Interests: Racing, Travel, Video Games and Movies
ABOUT JEREMY
Jeremy Clements is carrying on a family tradition long rooted in NASCAR. He is the grandson of famed NASCAR owner and renowned engine builder, Crawford Clements. Jeremy's uncle, Louis Clements, was a Championship Crew Chief with Rex White. Together,Crawford and Louis spent over 25 years making history with their engine development programs and ownership of race cars. Today his father and Jeremy Clements Racing Team owner, Tony Clements, continues to run Clements Automotive, a company started by Crawford in 1965. Clements Automotive is a recognized leader in racing and performance engine building specializing in building complete racing engines, cylinder head services, dyno testing, custom porting, and CNC machining for virtually all types of racing applications including ARCA, Pro Cup, Dirt Late Model, and nascar. With racing in his blood and plenty of horsepower in his daily life, Jeremy continues the tradition.
Jeremy has outgrown the label of a "young gun" and has shown longevity with his talent, distinctive style and charm.
EARLY YEARS

Introduced to racing by his grandfather, Jeremy began his racing career at the age of seven in go-karts where he picked up 47 feature wins before successfully tackling the various ranks of dirt racing. Moving to Modified and Stock four-cylinders in 1999, Jeremy would rack up 59 wins and three track championships over the next three years. His dirt experience proved beneficial in transitioning the determined teen to asphalt racing.
LATE MODEL & ARCA RACING SERIES

In 2002 Jeremy made his debut in the ARCA Series, driving the No. 3 for Broadway Motors (Ken Appling) at Talladega Superspeedway. He qualified 6th 2002 and 2003, Jeremy would run several ARCA races and continue to dominate on dirt running and finished 17th. Throughout the Super Late Models.
On July 24, 2004, Jeremy suffered an injury that threatened his racing career while running his No. 51 Late Model at 311 Speedway in Madison, NC. The torque arm broke under his car and sent a steel driveshaft piercing through his cockpit, almost removing his right hand. Initially doctors predicted that he would be lucky to have any movement at all in the hand. Jeremy underwent 8 surgeries and months of physical therapy to regain use of his right hand. In July 2005, Jeremy returned to the dirt track almost exactly a year after his hand injury, testing his Late Model. During the remainder of the year he would race late models and returned to the ARCA series for two races. Jeremy continued to make strides towards his goal of running in NASCAR. In 2006 he started 10 ARCA races with Ken Appling, with 3 top 5 finishes and 1 top 10 finish. He was also selected by General Motors to participate in a three track test with Richard Childress Racing. During the 2007 season, Jeremy started 12 ARCA races with Ken Appling, earning his first ARCA win at Nashville Superspeedway after qualifying second and leading 48 laps. He also earned 5 top 5 finishes and 2 top 10 finishes. In 2008, Jeremy ran seven races in the ARCA series with Ken Appling. He earned 2 top 5 finishes and 3 top 10 finishes and came close to repeating his 2007 win at Nashville Superspeedway, finishing in 2nd place.
NASCAR XFINITY SERIES
Jeremy was one of the youngest drivers to ever qualify for a NASCAR Nationwide Series event at age 18, racing for Jerry Young at Pikes Peak on July 26, 2003. He finished the race in 31rst after an accident on lap 28 ended his day. Jeremy would return to the NASCAR Nationwide Series in 2007, running 5 races with McGill Motorsports, driving the No. 36 Chevrolet. In 2008, Jeremy ran two races for this family team, driving the No. 50 at Gateway and Homestead. During 2009, he ran the first half of the season driving the No. 50 for his family team and the second half of the season for Johnny Davis in the No. 0. His best finish came at Auto Club Speedway on October 10, 2009, where he qualified  21rst and finished in 12th position. Jeremy Clements Racing/ Clements Racing Engines was formed in 2010 giving Jeremy the opportunity to run a partial schedule funded by Boudreaux's Butt Paste. Running under Johnny Davis on a very limited budget, the team qualified for 16 races, with Jeremy's then best NNS career finish of 10th at Gateway International Raceway.
In 2011, the decision was made to move Jeremy full time into the NNS and run a full season driving the No. 51 for Jeremy Clements Racing. Although primary sponsorship was not secured, Jeremy and JCR remained competitive in the field, completing the season with 4 top 15 finishes and 7 top 20 As in 2011, the Team would again overcome limited sponsorship support and remain competitive on the track during the 2012 season. In his second full time season in NXS, Jeremy would earn 2 top 10 finishes at the Brickyard's Inaugural race (Indy) and at the Monster Mile (Dover). Jeremy completed the 2014 season in 14th place in the Driver Point Standings.  In August 2017 in his 256th start Jeremy recorded his first career NXS win at Road America topping all the Cup-Affiliated teams as well as securing his first NXS playoff appearance.  This was quite an accomplishment for a family owned single car team that builds its own engines and runs with limited sponsorship.  Jeremy currently resides in his hometown of Spartanburg, SC, with his wife Cortney and their dog Mollie. During the off season, Jeremy enjoys traveling and spending time with family and friends. Jeremy finished the season the 2018 15th in Driver Point Standings.