Booze Pops back with Jeremy Clements Racing at Darlington
Spartanburg, SC – Jeremy Clements Racing is ready to cool down the start of Labor Day weekend at the Lady in Black.   As Booze Pops out of Charleston, SC, returns as primary sponsor at The Track Too Tough Too Tame. The Sport Clips Haircuts VFW Help A Hero 200 will take place this Saturday September, 2nd at Darlington Raceway.
"This last month has really been challenging for us and what better way to get back on track is here at our home track and with our great South Carolina partner Booze Pops." said Clements.  
"Having Woody and his team not only on the car but at the track to help the Fans cool down is going to make for a fun weekend. Plus, I can't thank Woody enough for the tremendous support to JCR over the last three years as well as his dedication in giving back to our Veterans is unmatched.  I can't wait to take the #51 Booze Pops Chevy Hot Rod to the front!" Clements went on to say.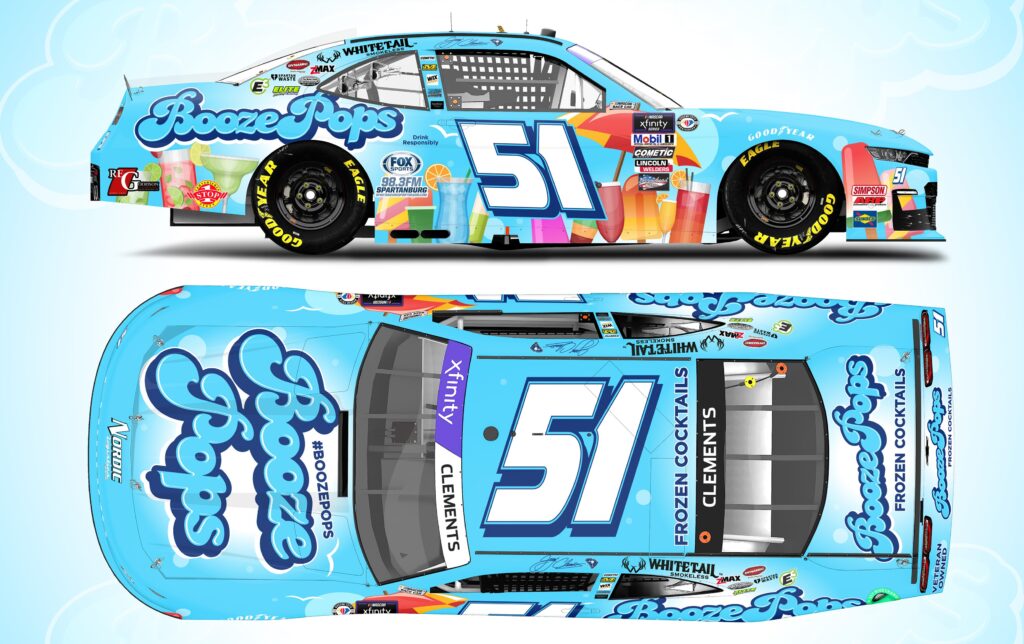 Joining Booze Pops as associate sponsors will be:  RE Goodson, One Stop Convenience Stores, Fox Sports Spartanburg, Spartan Waste, Whitetail Smokeless, Matman Designs, ELITE Towing & Recovery LLC, E3 Spark Plugs, Mechanix Wear, Wix Filters, Carolina Driveline, Cometic and ZMAX 
  
RACE PREVIEW 
Track: Darlington Raceway
Race: Sport Clips 200
Date: Saturday, September 2, 2023
Broadcast Information – TV: 3:30 pm EST on USA
FAST FACTS
• Best Start 12th – 5/2021
• Best Finish 6th – 5/2021
• 17th career start at Darlington
JCR TEAM 
Crew Chief: Mark Setzer
Manufacturer: Chevrolet
Engine: Clements Racing Engines
Twitter: @JClement51 @JCR_Clements51
Instagram: @jclements51 @jeremyclementsracing
Facebook: Jeremy Clements Racing
ABOUT BOOZE POPS
Booze Pops from Charleston, SC was the brainchild of Woodrow (Woody to his friends, and since you are reading this that means you too) Norris, a former US Army mechanic after a tour of duty in Iraq. He was at a friend's birthday party where he was offered a popsicle infused with alcohol. Woody immediately wondered if anything like this was available on one of America's favorite past times–an ice cream truck. After researching the market, Woody learned that no ice cream men were cool enough to pass out alcohol infused popsicles and so Woody bought an ice cream truck.
His first trip through a neighborhood Woody wasn't sure if his idea would be a hit, but when he returned for a second trip, he had everyone from Little League coaches to housewives lined up on street corners waiting on him, and Booze Pops has been bringing communities together ever since.
Booze Pops offers a menu based on customer tested products of Adult Pops, Jello Shots, and ice cream for the kids. They are available for corporate events, weddings, bachelor/bachelorette parties, birthday parties, block parties and more. Check them out at www.boozepop.com