Fox Sports Spartanburg and Spartan Waste to make 2023 debut for JCR at Phoenix
Spartanburg, SC – Jeremy Clements Racing is blessed to have Spartan Waste and Fox Sports Spartanburg 1400 return as primary sponsors for 2023.   Fox Sports and Spartan will make their season debut as co-primary sponsors this weekend at Phoenix Raceway and will sponsor five more races throughout the '23 season. Also, JCR is pleased to welcome two new associates partners El Bandido Yankee Tequila and Barrio Queen on board the #51 Machine for the United Rentals 200 Saturday, March 11th.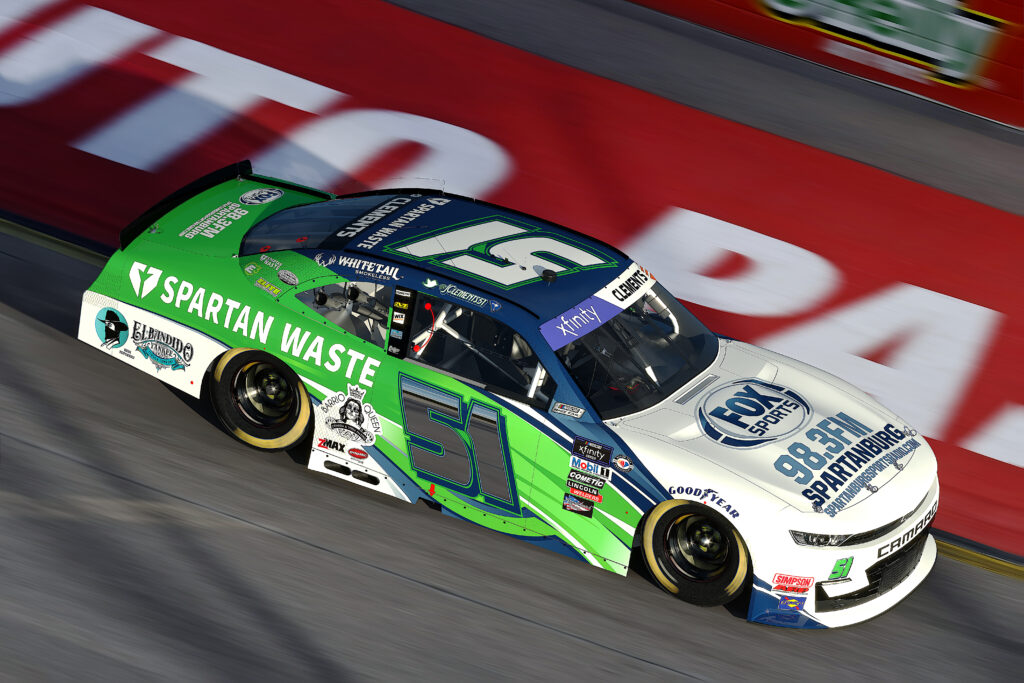 "I'm so grateful to have Fox Sports Spartanburg and Spartan Waste return this season. Ryan (Delaney), Mark (Mullen) and Mark (Nelson) are awesome to work with. They are great people and so supportive of us as they are of their customers." Clements stated.
"We appreciate their enthusiasm for the sport, and everything they have done and continue to do for us, and we hope to have a great run for them on Saturday," adds Clements.
Joining Spartan Waste and Fox Sports Spartanburg as associate sponsors will be: Whitetail Smokeless, E3 Spark Plugs Chalew,  ELITE Towing & Recovery LLC, Dynamic Quality Paintware, Mechanix Wear, Wix Filters, Carolina Driveline, Cometic and ZMAX Race Products.
RACE PREVIEW
Track: Phoenix Raceway
Date: Saturday, March 11th, 2023
Broadcast Information: TV: 4:30 pm EST on FS1
FAST FACTS:
Best Start 10th – 2019
Best Finish 10th – 2021
26th career start at Phoenix
JCR TEAM
Team: No. 51
Crew Chief: Mark Setzer
Manufacturer: Chevrolet
Engine: Clements Racing Engines
ABOUT SPARTAN WASTE
Spartan Waste is a locally owned trash collection company that services communities throughout the upstate of South Carolina. Friendly, professional and dependable, we take pride in the work we do, the customers we serve and in the place, we call home. Keep it Clean. For more information visit spartan-waste.com.
ABOUT FOX SPORTS SPARTANBURG 1400
Spartanburg Sports are on Fox Sports 1400 / 98.3 Spartanburg. Home to the Spartanburg Vikings, Gamecock Baseball, and of course Open Mic Daily with Hauser and Clary. Fox Sports 1400 Spartanburg will feature: The Dan Patrick 9am-noon The Herd with Colin Cowherd 12-3pm Open Mic Daily 3-6pm SportsTalk with Phil Kornblut 6-8pm On Saturdays: The Saturday Sports Report 7-10am, Start Your Engines 10am-12pm. To listen live check out www.spartanburgsportsradio.com.