Impel Union to debut with Jeremy Clements Racing in the season finale at Phoenix. 
Jeremy Clements Racing is excited to be using the season finale in the Valley of the Sun as an introduction to welcome Impel Union fully into the JCR family. Impel Union who has served as multi-time associate sponsor in 2023. Will be making their premiere appearance as primary sponsor during the Xfinity Series Championship Weekend coming up at Phoenix Raceway.
Alliance Driveaway Solutions, The Workforce LLC, and The Racing Warehouse will return as associate sponsors. The Xfinity Championship Race will take place Saturday, November 4th at 7:00 pm EST on the USA Network.
"What a roller coaster of a year for us but I know we gave it a valiant effort for sure and worked our tails off every week and that's all you can ask for." stated Clements. "So, this weekend we look forward to welcoming Impel Union on board. Jason (Kemner) and Blazo (Gjorev) and their team will be trackside with us too. We look to have a great run for them to wrap up the season as they will play a significant role in helping build our program to be as Fast as Xfinity 10G internet in 2024." Clements went on to say.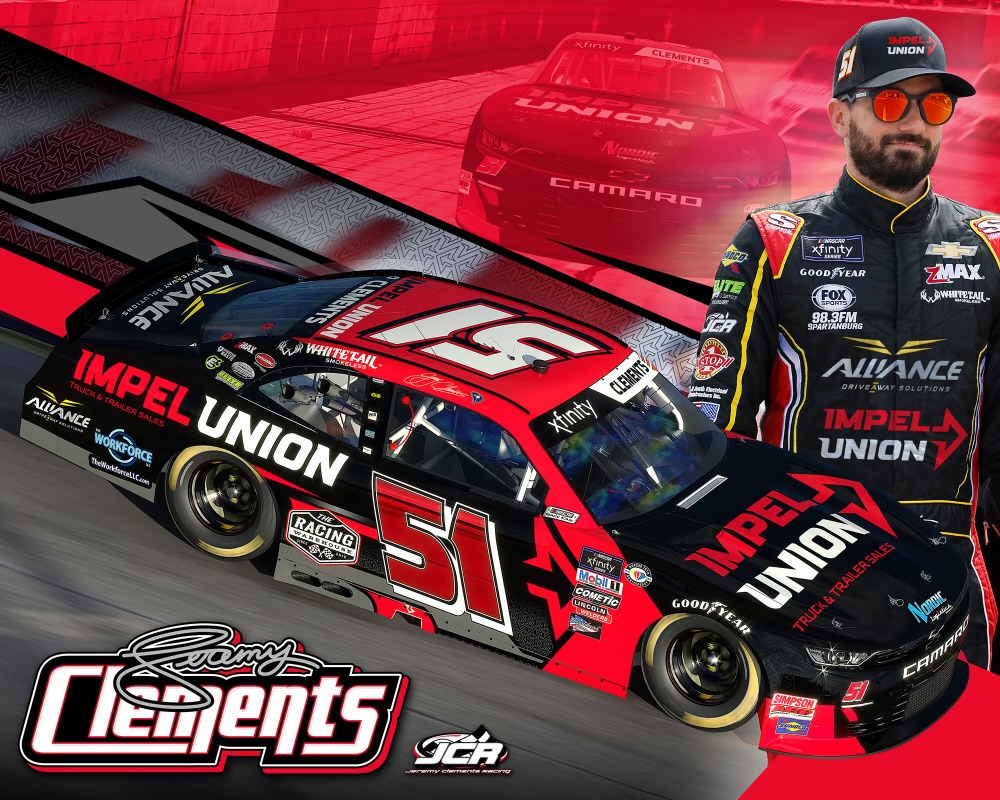 Also joining Impel Union as sponsors will be: Spartan Waste, Whitetail Smokeless, E3 Spark Plugs, Elite Towing & Recovery, Matman Designs, Dynamic Paintware, Nordic Logistics, Mechanix Wear, Wix Filters, Carolina Driveline, Cometic and ZMAX.
RACE PREVIEW
Track: Phoenix Raceway
Date: Saturday, November 4th, 2023
Broadcast Information: TV: 7:00 pm EST on USA
FAST FACTS
Best Start 10th – 2019
Best Finish 10th – 2021
27th career start at Phoenix
JCR TEAM
Crew Chief: Mark Setzer
Manufacturer: Chevrolet
Engine: Clements Racing Engines
ABOUT IMPEL UNION
At Impel Union, we're not just about providing top-tier trucks and trailers; we're your co-driver in the thrilling race to trucking prosperity, with the precision and enthusiasm reminiscent of a NASCAR pit crew.
Our mission is to turbocharge your business, ensuring it doesn't just move, but sprints forward, marking each milestone with the exhilarating echo of victory.
In the fast lane with Jeremy Clements Racing, our partnership exemplifies our dedication to peak performance and unwavering reliability. Every truck, trailer, and service is a green flag, ushering you into an accelerated journey in the trucking circuit. With Impel Union, each mile and delivery is a victory lap, a sprint closer to the winner's circle. Together, let's speed to unparalleled success!