JCR, First Pacific Funding; to Salute The Man, Geoff Bodine Darlington Throwback Weekend
Spartanburg, SC – Jeremy Clements Racing is excited to go back in time once again for the annual Darlington Throwback weekend.  This year First Pacific Funding will be taking us down memory lane with the 1982 Cup Rookie of the year, 1986 Daytona Champion, 1987 IROC Champion, 3-time Darlington XFINITY Series winner, 18-time Cup winner and one of NASCAR's 75 Greatest drivers of all Time – Geoff Bodine!  JCR will run the Iconic Yellow and White livery that Bodine totaled four Cup Series wins from 1985 to 1989. The Shriner's Children 200 will take place Saturday, May 13th at Darlington Raceway.
"Throwback weekend is one of the coolest weekends on the schedule. Plus, Darlington is not only my home track but also one of my favorite tracks to race on. said Clements.  "We really have a helluva great looking car this year.  All the credit goes to Steve (Carnes) from First Pacific for helping bring this 80's badassery of a scheme back to life again! We hope to put on a good show and take the #51 hot rod to the front."  Clements went on to say.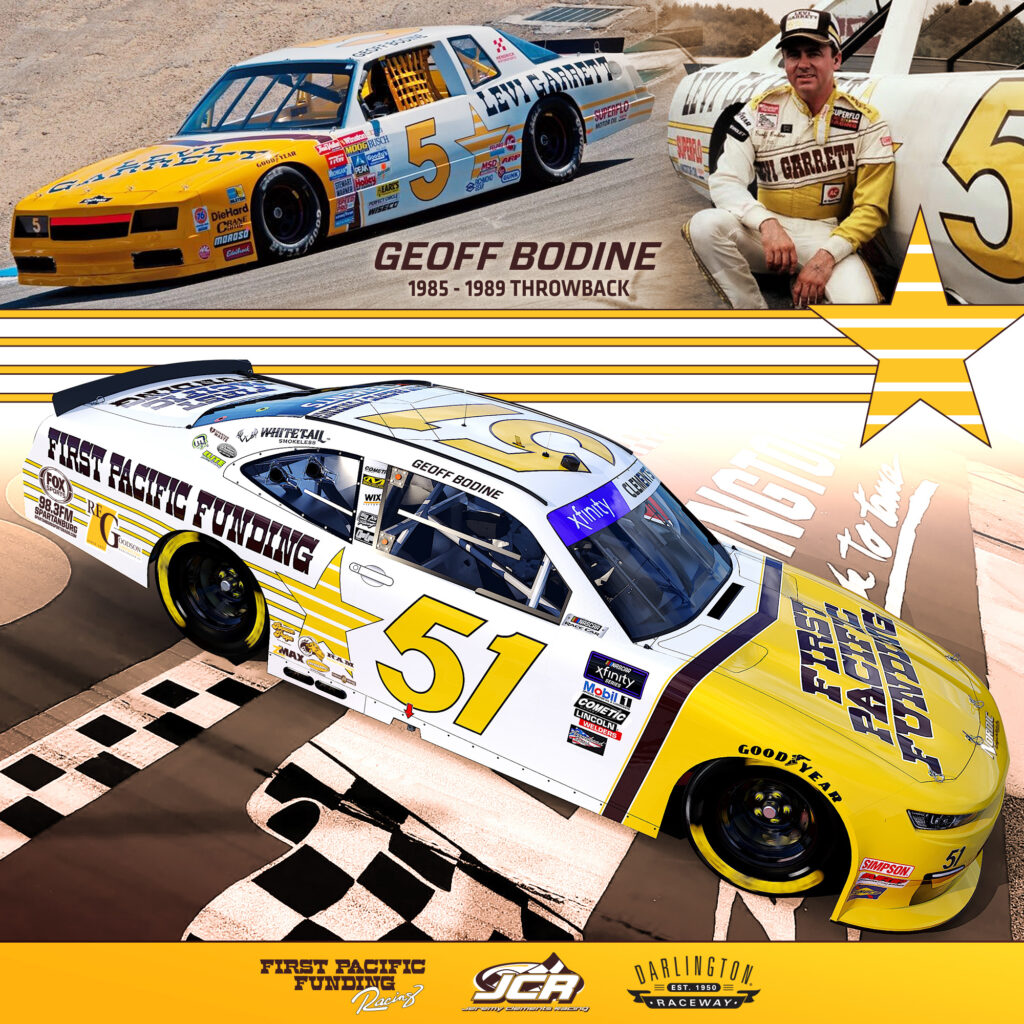 Joining First Pacific Funding as associate sponsors will be – Fox Sports Spartanburg, RE Goodson, Spartan Waste, Nordic Logistics, Circle B Diecast, Matman Designs, Booze Pops, Whitetail Smokeless, Ram Energy Solutions, Dynamic Quality Paintware, ELITE Towing & Recovery,  Mechanix Wear, Wix Filters, Carolina Driveline, Cometic, E3 Spark Plugs and ZMAX 

 
RACE PREVIEW 
Track: Darlington Raceway
Race: Shiner's Children 200
Date: Saturday May 13th, 2023
Broadcast Information – TV: 1:30 pm EST on FOX
FAST FACTS 
• Best Start 12th – 5/2021
• Best Finish 6th – 5/2021
• 16th career start at Darlington
JCR TEAM 
Team: No. 51
Crew Chief: Mark Setzer
Manufacturer: Chevrolet
Engine: Clements Racing Engines
Twitter: @JClement51 @JCR_Clements51
Instagram: @jclements51 @jeremyclementsracing
Facebook: Jeremy Clements Racing 
ABOUT FIRST PACIFIC FUNDING
First Pacific Funding is committed to helping your business grow by providing you capital in a quick streamline process. You can purchase your company's equipment via a financing program tailored to your company's needs. We offer highly trained lease managers that are committed to making sure your equipment lease is a memorable experience.
First Pacific Funding is a national lender based out of the Pacific Northwest with satellite offices across the U.S. We provide financing to companies for new or used business equipment and technology. Whether you're an equipment dealer who needs a leasing partner to fund your customers or a business owner looking to lease your next piece of equipment, FPF has the expertise and support to help you succeed.