The Boo Crew is back as Spartan Waste and Fox Sports Spartanburg return for Martinsville.  
Spartanburg, SC – Jeremy Clements Racing is ready to haunt down the competition as the Xfinity Series enters the penultimate race of 2023 at Martinsville Speedway.  With Halloween just a scare away. JCR will attack the Half Mile of Mayhem with a Ghostly livery from primary partners Spartan Waste and Fox Sports Spartanburg entering All Hallows' Eve weekend. Also reappearing as associate sponsors will be High Speed Auto and The Racing Warehouse. The Dead On Tools 250 will take place Saturday, October 28th at 3:30 pm EST on the USA Network.
"Man, it looks like we have started a pretty great tradition! This will be the third consecutive year that the Spartan and Fox crew have partnered with us for the Fall race at Martinsville."  said Clements.  "It is always a fun weekend when these guys are on board and even better is that it is also my favorite time of the year, Halloween.  We look to have a good run for them and finish these last two races on a high note."  Clements went on to say.
Additionally, Fox Sports Spartanburg and Spartan Waste will be holding a Green Flag Meet and Greet Party at Rockers Brewing Co on Wednesday, October 25th from 4:00 – 7:00 EST in Spartanburg.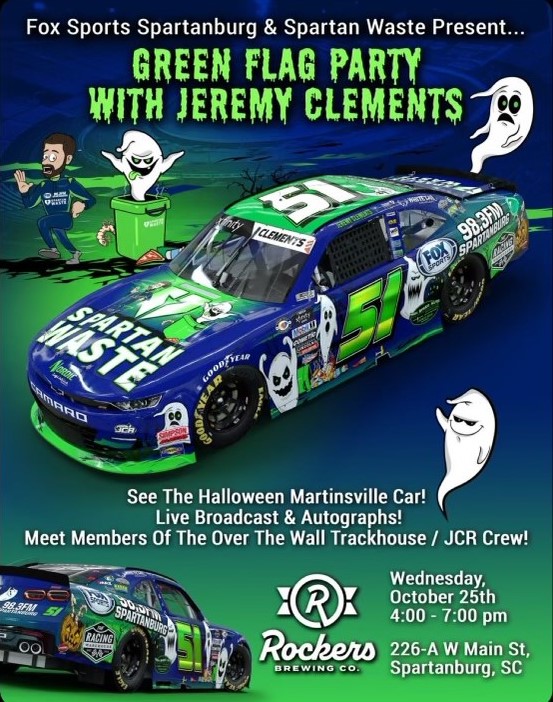 Also joining Spartan Waste and Fox Sports Spartanburg as associate sponsors will be: Whitetail Smokeless, E3 Spark Plugs, Elite Towing & Recovery, Matman Designs, Dynamic Paintware, Nordic Logistics, People of the Woods, Mechanix Wear, Wix Filters, Carolina Driveline, Cometic and ZMAX.
RACE PREVIEW
Track: Martinsville Raceway
Date: Saturday, October 28th, 2023
Broadcast Information: TV: 3:30 pm EST on USA
FAST FACTS
Best Start 11th – 2021
Best Finish 9th – 2021
7th career start at Martinsville
JCR TEAM
Crew Chief: Mark Setzer
Manufacturer: Chevrolet
Engine: Clements Racing Engines
ABOUT SPARTAN WASTE
Spartan Waste is a locally owned trash collection company that services communities throughout the upstate of South Carolina. Friendly, professional, and dependable, we take pride in the work we do, the customers we serve, and, in the place, we call home. Keep it Clean. For more information visit spartan-waste.com.
ABOUT FOX SPORTS SPARTANBURG 1400
Spartanburg Sports are on Fox Sports 1400 / 98.3 Spartanburg. Home to the Spartanburg Vikings, Gamecock Baseball, and of course Open Mic Daily with Hauser and Clary. Fox Sports 1400 Spartanburg will feature: The Dan Patrick 9am-noon The Herd with Colin Cowherd 12-3pm Open Mic Daily 3-6pm SportsTalk with Phil Kornblut 6-8pm On Saturdays: The Saturday Sports Report 7-10am, Start Your Engines 10am-12pm. To listen live check out www.spartanburgsportsradio.com.